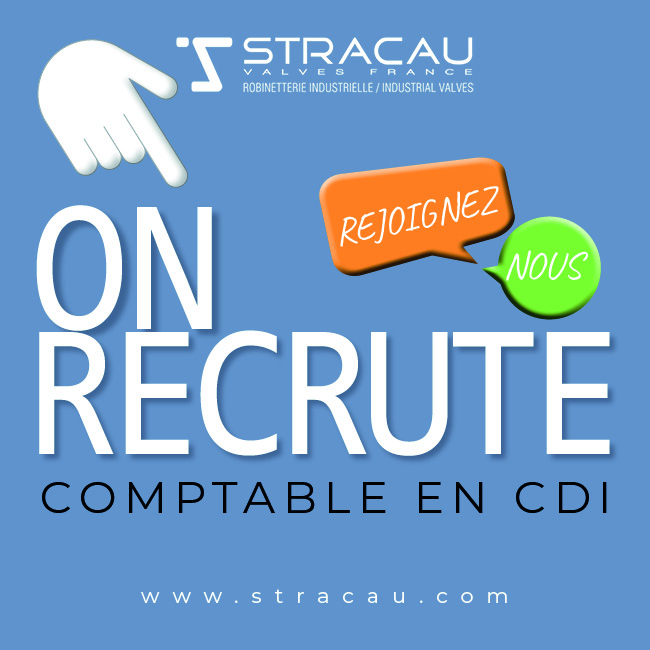 STRACAU VALVES France, specialist in industrial valves BtoB at the international level, is looking for an Accountant on a permanent contract.
Within our company based in Genas (69740), you will report to the Administrative and Financial Director.
You will be in charge of :
All the general accounting of the company (Purchases / overheads / management and monitoring of cash),
Preparation of tax returns (VAT, DEB, TVS, advance tax, CVAE),
Analysis and control of the annual financial statements (balance sheets, financial brochure, appendices, ...)
Social part: management of payroll elements.
This list is not exhaustive and other tasks may be assigned.
Your skills :
You master the accounting, tax and social rules,
You master the office automation tool in the broadest sense,
A notion of INCOTERMS and international payment methods,
You have an interest in the international industrial world
English is a plus.
Expected qualities :
A sense of teamwork and responsibility.
A posture combining productivity, autonomy and professionalism.
A willingness to learn and understand.
Experience in an accounting firm and/or professional practice with proven experience in the above missions is required.
You have completed an accounting degree (minimum of 2 years of higher education).
You like teamwork, you are curious, methodical and have a good ability to listen and adapt.
Position to be filled as soon as possible.
Une question ?
Dites nous ce que nous pouvons faire pour vous.
Nos équipes commerciales se tiennent à votre disposition du lundi au vendredi de 8h00 à 12h00 et de 13h30 à 17h30 pour répondre à vos questions.