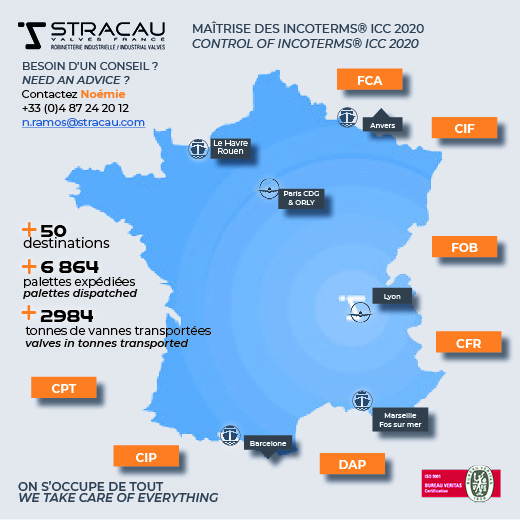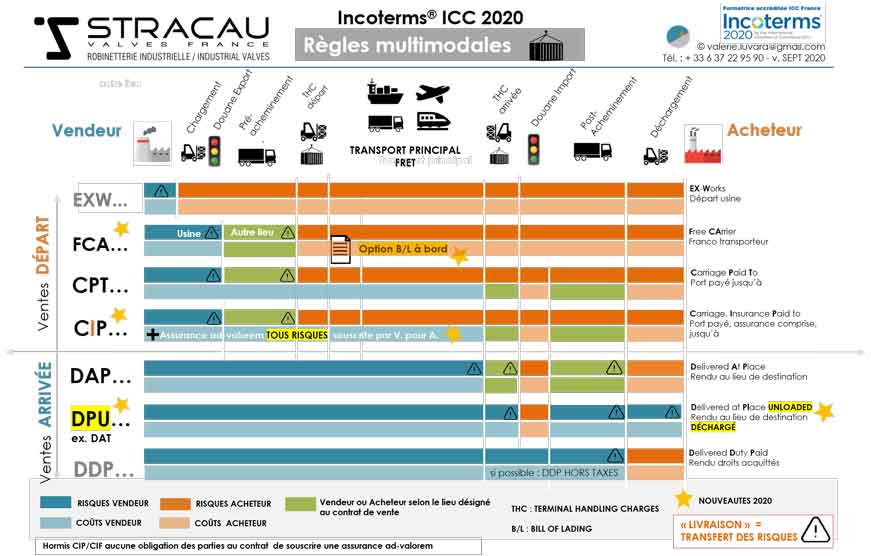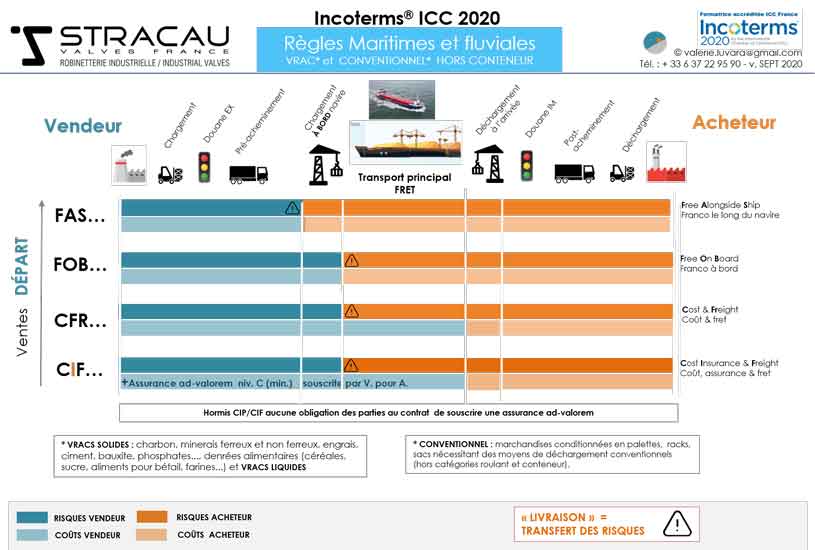 INCOTERMS is the contraction of "International Commercial TERMS" whose objective is to determine the obligations of the seller and the buyer, the costs and the transfer of risk of a transport at the time of a purchase/sale contract:
Obligations: who is in charge of transport? the cost of insurance? providing the documents?
Risks: where and when are the goods delivered?
The costs: transport? packaging? customs clearance? etc.
What are the major changes between INCOTERMS 2020 and 2000?
New option of the FCA rule: allows the delivery of a certificate of loading on board (e.g. a BL). The buyer instructs the carrier to give the seller the transport document "on board" or "accepted for shipment".
All-risk" cover with the Incoterm CIP at the seller's expense, thus increasing the cover and the cost of insurance for the transport.
The DAT becomes DPU: the goods can be delivered to the agreed destination (terminal, quay, warehouse, factory, etc.).
INCOTERMS 2020 used by STRACAU
FCA (Free Carrier): free carrier. STRACAU uses the FCA factory in replacement of the EXW (Ex Works) and delivery to the requested place (forwarder, port...).
CPT (Carriage Paid to): carriage paid to... STRACAU uses it for groupage and container shipments at the port or airport.
CIP (Carriage and Insurance Paid to): carriage paid, insurance included up to... is identical to CPT but with "all risks" insurance included.
DAP (Delivered At Place): returned to the place of destination. It is used for deliveries to your addresses when we ship via an express carrier (e.g. DHL, CHRONOPOST, FEDEX...).
FOB (Free on Board): free on board the vessel,
CFR (Cost and Freight): cost and freight,
CIF (Cost insurance and Freight): cost, insurance and freight are to be used when the equipment is packaged in BULK or CONVENTIONAL (excluding containers) for MARITIME transport.

---

NEED AN ADVICE?

Please, contact Noémie

+33 (0)4 87 24 20 12

---

Download our TRANSPORT BOOK
Une question ?
Dites nous ce que nous pouvons faire pour vous.
Nos équipes commerciales se tiennent à votre disposition du lundi au vendredi de 8h00 à 12h00 et de 13h30 à 17h30 pour répondre à vos questions.